On July 6, 2005 over 100 volunteers from the University of Queensland (UQ) student and teacher fraternity planted over 6,000 tubestock plants along a section of riverbank from Emanuel to St Leo's colleges.
Lowndes Landscapes (then known as Solargreen Landscapes) designed the planting in conjunction with UQ Sustainability and the Society for Conservation Biology UQ Chapter, with funds from the Queensland State Government's Everyone's Environment grants.
The planting was designed with three vegetation types in mind- 'hedge edge' species of mixed native heathland and other shrub types along the exercise track to support small bird species such as Fairy Wrens; a dry rainforest transition zone followed by rainforest riparian vegetation.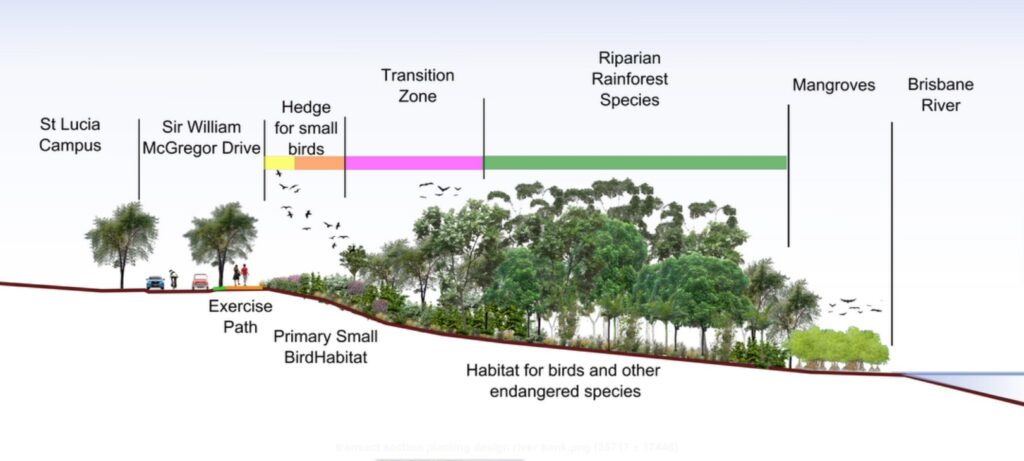 Five years on and the success is quite evident. The 'Hedge edge' is now well established and now extends for 800m towards the Eleanor Schonell Bridge. Transition zone trees such as Wattles and Casuarina's now stand over 8 meters high, while the rainforest riparian trees are forming a solid understory beneath the existing Eucalyptus overstory.
There's a new walk in construction though the planting. With direct access to the river, and restored planting, this area will be one of Brisbane's special hidden places for years to come.